Summary Description: The Brotherhood of the Sacred Word
The Brotherhood of the Sacred Word is a fellowship of Christian-heritage and Hindu-heritage men advocating for the original dharma for racial regeneration and the protection of our peoples.
||||
We advocate the central importance of moral self-control (brahmacharya) in men for both worldly and spiritual prosperity.
||||
We advocate for the knowable-God found within as bliss and pure consciousness experienced through meditation technique.
||||
We advocate for the protection of race, peoples, and nations, and protection of their genetic heritages and their religious and cultural heritages.
||||
We teach that the
sacredness of the procreative power (sex)
, the sacredness of duty to one's natural people, and the sacredness of the remembrance of God -- are all central values of White European heritage (as well as Indian/Hindu heritage). We teach that whoever attacks the sacredness of sex, among a people, attacks the prosperity of that people.
||||
We revere both the heritage of Christianity and the heritage of India and Hinduism, and continuously expose the fruitful connections between them.
||||
We teach that Christianity is an elegant and magnificent form of White European bhakti-yoga, that the churches must be preserved, and the priesthoods purified and regenerated.
||||
We teach that a man's first duty is to his family and his natural people.
||||
We advocate for natural brotherhood, teaching of one's people, and progression toward the ancient saddhu/renunciant ideal as well as fulfillment of the natural stages of life: Marriage, children, and fatherhood.
||||
We believe in street activism and natural forms of community.
||||
We teach that a sign of male moral regeneration is natural friendship with other males and brotherhood.
||||
We are pro-marriage and pro-family and believing in supporting qualified marrying men and their families, while our unmarrieds pursue austerity, yoga, prayer, and activism for their people.
||||
Our founder is Anandaguru Omkaracharya of Portland (aka J. Curtis Lee Mickunas).
||||
Our founder explicates the true meaning of the
Yoga-Sutra
and the
Upanishads
, gives initiation into meditation technique, and carries the
shaktipat
of both the Yogananda and the Nityananda lineages of siddhas.
||||
The father of our lineage is Mahavatar Babaji of the Himalayas.
||||
We aim to offer up to the White Europeans a restored, enlivened, and enlarged form of Christianity and to offer up to India a restored, enlivened, and enlarged form of Hinduism.
||||
For information on how to join write:
letters@celibacy.info
and tell about yourself and about your interest.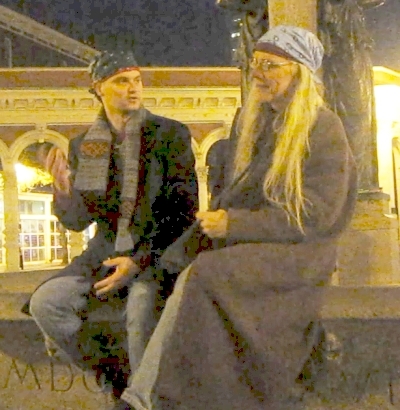 "The proofs of religion are bliss, siddhi, and world-upgrade."